Stages of Dental Disease

To understand the stages of dental disease, also knows as periodontal disease, we must first understand what it is. In the beginning stage, dental disease is known as gingivitis - which is inflammation involving the gingival tissues. At this stage the disease is reversible. As the disease progresses it is then called Periodontitis. Periodontitis is an active disease of the tissues that support the tooth resulting in attachment loss around the tooth. At this point the diseases is irreversible, and the goal then becomes controlling disease. Below are some photographs that show the progression as it effects the gum and tissue surrounding the teeth.
Roscoe's Day at the Dentist:
A little story that follows Roscoe from the morning he is dropped off for his dental cleaning to his discharge.
---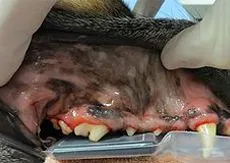 Dog full mouth radiographs

Cat full mouth radiographs